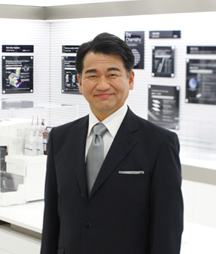 "For all the people around the world to keep their smile." That is our, ARKRAY's, wish.
ARKRAY, Inc. is focused on always providing new value to our customers and this is based on our founder's drive for taking on challenges. This drive has been key over the years as we built up our own, rare business style and maintained a comprehensive approach to the development, manufacture and distribution of the sample test devices, diagnostic reagents and diagnostic support tools needed for clinical testing.
In recent years, markets have undergone fundamental changes on a global scale and the value that the medical field demands has diversified. To achieve an even higher degree of customer satisfaction, we must continue creating value but in a new way. Of course we will continue providing accurate and rapid data needed for the diagnosis, treatment and monitoring of disease, but we must also turn our attention to health maintenance and improvement.
We will apply the technology and experience we have accrued over the past half century and continue to take on new challenges so that we can answer the diverse needs of our customers whilst maintaining both their health and happiness.