Sep 28, 2009
Meeting the rigorous standards of pediatrics: an additional item for our influenza test device


Speedy and accurate measurement of CRP, an indicator of inflammation
On 28 September, the clinical diagnostic device and in-vitro diagnostic reagent manufacturer, ARKRAY, Inc.released a reagent,
SPOTCHEM
i-Line CRP
, for the measurement of CRP, a marker of inflammation for use in doctor's offices and clinics. This is a new reagent for use with the fast test device, the SPOTCHEM IL SL-4720*1 and by
adding a CRP item to the simple test for influenza
, ARKRAY continues to meets the diagnostic needs for infectious diseases in medical facilities.
When inflammation occurs in the body and there is tissue damage, CRP, a protein, appears in the blood. Under normal circumstances, this is only present in the blood in extremely small quantities, so CRP testing can be performed to determine the presence and extent of inflammation.
A high number of infectious disease tests are performed within the pediatric field in particular due to inflammation and the common cold syndrome for which both speed and accuracy are required. CRP is a valuable marker for diagnosis, the assessment of severity and confirmation of treatment effectiveness.
SPOTCHEM i-Line CRP works with whole blood samples and performs automatic measurement within 10 minutes. The dedicated measurement device (SPOTCHEM IL SL-4720) classifies CRP values into one of 8 categories (0-12.5 mg/dL), and provides objective test results free from individual interpretation errors in contrast to traditional latex agglutination*2 (qualitative) methods.
Measurement is started automatically simply by inserting a test cartridge into the SPOTCHEM IL SL-4720 and measurement results are printed out once the reaction is complete. By writing the patient's name on the cartridge, this is printed out alongside the results which can then be easily attached to the medical records. There is no need to set a timer as with visually-read reagents and this method can boost the work efficiency of clinical staff even when you are busy.
ARKRAY will continue to provide a full product lineup that meets the needs of the medical field.
Main Features
●8 level display of results
CRP values displayed from '-' to '7+'.
●Objective interpretation
Even judgment compared with visual Latex agglutination (qualitative) methods
●Covering demanding   diagnostic items
An addition to the simple influenza test kit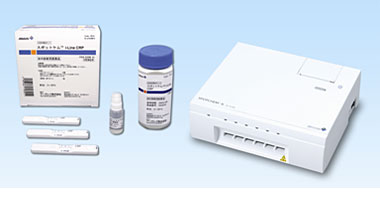 SPOTCHEM i-Line CRP (Left) and
the SPOTCHEM IL SL-4720
Explanation of terminology
*1 Fast measurement device, SPOTCHEM IL SL-4720
This is a speedy testing device employing the immuno-chromatographic method. Its dedicated reagent for influenza, i-Line FluAB was released in September 2008. Testing in doctor's offices and clinics has traditionally been performed using visually-read tests but this development allows for the simple, speedy and accurate testing as well as increased efficiency and effectiveness. With a footprint of less than A4 size, it doesn't take up much space either.
In addition, by writing your name on the test cartridge,
it is printed out together with the results, reducing the
likelihood of mix-ups.
(Patent pending)


*2 Latex-agglutination method (qualitative)
This is where latex particles that have been sensitized to anti- CRP antibodies react with the sample.
When CRP is present, the latex particles agglutinate due to the antigen-antibody reaction.
This is a visually readable test.
Product Outline
SPOTCHEM i-Line CRP
| | |
| --- | --- |
|  Measurement device |  SPOTCHEM IL SL-4720 |
|  Sample type |  Whole blood |
|  Measurement item |  CRP (Qualitative) |
|  Reaction principle |  Immuno-chromatography |
|  Expiry period |  6 months |
|  Storage conditions |  Room temperature (2-30C) |
|  NHI points |  16 points |
This product is sold by ARKRAY Marketing Inc. (*)
*ARKRAY Marketing Inc is a member of the ARKRAY group of companies and handles sales within Japan.