Apr 07, 2015
Contributing to Improved Efficiency of Diabetes Testing
- Introducing a new addition to the product line-up of reagents for enzymatic HbA1c analysis -
ARKRAY, Inc. will release a new compact line-up of the existing reagent kit CinQ HbA1c on April 10th (Fri), which is used for the measurement of the diabetes test item HbA1c (Hemoglobin A1c).*1 CinQ HbA1c is a reagent for use with automated analyzers that utilizes an enzymatic method*2 and it allows for fast and simple measurements of HbA1c to be carried out, contributing to improved efficiency and a decrease in the burden of clinical testing at diagnosis centers and medical institutions.
CinQ HbA1c, distributed by ARKRAY, Inc. (ARKRAY hereafter), is an in-vitro diagnostic reagent that allows for fast and simple measurements of HbA1c levels. Since its release in February 2008, the reagent has widely contributed to large-volume sample testing by multi-purpose automated analyzers which are used at medical institutions that regularly need to process a large volume of patient samples.
Responding to the needs of the medical market, we will now release a range of compact kits that can be prepared and used on many different automated analyzers. With the original product line-up (1,000 mL, 100mL bottles), medical staff had to continually transfer the required amount from the reagent bottle when necessary. However, with the introduction of a compact bottle range, this cumbersome process can be avoided, leading to improved efficiency and a decrease in the burden of clinical testing. Additionally, the removal of the transfer process for the reagent also serves to reduce the risk of contamination by foreign substances and bacteria.

The measurement principle for this product is based on an enzymatic method. By providing a complete line-up of HbA1c testing products that utilize the HPLC method*3, immunoassay method*4 and enzymatic methods, ARKRAY continue to address the specific needs of various customers in the medical industry.
Moving forward, ARKRAY will continue to strive towards developing products that offer even more ease-of-use to workers in the medical industry, as well as providing support for institutions specializing in diabetes treatment.
Product Features
•High performance and quick measurements for HbA1c
Measurement of the important diabetes analyte HbA1c, using an enzymatic method with a high level of accuracy. Processing time takes approx. 10 minutes. From the second sample onwards, test results for each sample are output at 2-10 second intervals. (Varies depending on instrument)
•Whole blood measurements are possible

Whole blood testing is possible in addition to blood cells. Contributes to a decrease in the burden of clinical testing and improved efficiency whilst providing accurate HbA1c measurements

•Pretreatment utilizing purified water
Purified water can be used instead of a specific diluent for pre-measurement dilution, allowing for a more simple pretreatment process.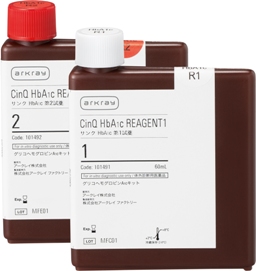 CinQ HbA1
*Photograph
Right: CinQ HbA1c LF70(R1) 
Left: CinQ HbA1c LF70(R2)
Terminology
*1 HbA1c (hemoglobin A1c)
HbA1c is formed when hemoglobin within red blood cells binds with glucose. It is a marker used to indicate the average blood glucose level over the previous one to two months. With the revision of the diagnostic criteria for diabetes in Japan in 2010 and the global standardization of HbA1c levels, this marker is now positioned as a key testing criterion for controlling blood glucose levels in treating and diagnosing diabetes. Thus, there is a greater need at the frontlines of diabetes testing for immediate measurement of HbA1c as well as blood glucose measurements.
*2 Enzymatic method
An enzyme reaction is implemented to measure the concentrations of total hemoglobin and of HbA1c within whole blood. Total hemoglobin concentration is measured during the measurement process for HbA1c concentration. The HbA1c level is calculated from the ratio of HbA1c concentration and total hemoglobin concentration.
*3 HPLC method (High Performance Liquid Chromatography)
HPLC is a method to separate and quantify components in a mixture. It is also a high precision method for detecting HbA1c. ARKRAY developed the world's first dedicated HbA1c analyzer using HPLC back in 1981, which is still widely used in medical facilities today.
*4 Immunoassay method
The immunoassay method implements an antibody to identify HbA1c antigens for measurements, making it possible to selectively measure HbA1c only. One of the merits of this method is that by utilizing a highly specific antibody, the possible impact or effects of hemoglobin other than HbA1c can be avoided.
Product Overview: CinQ HbA1c
Name

Glycohemoglobin A1c Kit 'CinQ HbA1c'
Release date
April 10, 2015 (Fri)

Specifications

Sample type
Whole blood & Blood cells
Meas. items
Hemoglobin-A1c (HbA1c)
Meas. principle
Enzymatic method
Meas. range
3.3-16.6% (NGSP), 3.0-16.0% (JDS)
Storage Method
2~8°C (Refrigerated) 12 months
Packaging Unit
CinQ HbA1c LF70(R1) / 60mL x 10 Bottles
CinQ HbA1c LF70(R2) / 30mL x 10 Bottles
CinQ HbA1c MF70(R1) / 60mLx 4 Bottles
CinQ HbA1c MF70(R2) / 30mLx 4 Bottles
Certification No.
25A2X00001000008
Product Category
In-vitro Diagnostic Agent
Classification
Class I
This product will be sold through ARKRAY Marketing, Inc. (ARKRAY, Inc.'s distributor in Japan).