Commencement of sales for fully automated genetic analyzer and dedicated reagents for infectious diseases
Responding to the Diverse Needs for In-house Genetic Testing
ARKRAY, Inc. (Headquarters: Nakagyo-ku, Kyoto, President & CEO: Takeshi Matsuda) shall commence sales of the Fully Automated Genetic Analyzer μTAS Wako g1 and its dedicated reagents, which are manufactured and distributed by Wako Pure Chemical Industries, Ltd. (Headquarters: Chuo-ku, Osaka, President: Shinzo Kobatake), from 31 January 2018 (Wednesday). The employment of this genetic testing system enables rapid and simple detection of tuberculosis (TB) DNA, contributing to the simplification and improved efficiency of TB testing.
ARKRAY, Inc. (hereafter, 'ARKRAY') shall commence sales of the μTAS Wako g1, which is an instrument that conducts nucleic acid amplification, separation and detection in a microchip using the micro Total Analysis System.*1 Mycobacterium tuberculosis complex (MTB) and Mycobacterium avium complex (MAC) DNA in the sample is detected by using the respective dedicated reagents μTAS Wako MTB and μTAS Wako MAC.
Despite annual decreases in the number of TB patients in Japan,*2 the infectious disease still remains one that requires utmost care and even when observed on a global level, Japan is regarded as a medium TB burden country.*3 Furthermore, TB is equally a disease that requires prompt countermeasures to curb infection due to the ease of secondary infection. Meanwhile, cases of MTB have been on the increase every year. Although secondary infection does not occur with MTB, distinguishing it is crucial due to the fact that the treatment policy differs to that of TB and other respiratory diseases. Based on this situation, there have been demands for high specificity, sensitivity and speed in genetic testing for TB and MTB infection.
ARKRAY, under the concept of "greater genetic testing accessibility," has a product line-up that provides total support for gene-related tests in the hospital, including the Gene Analyzer i-densy™ IS-5320*4 and gene analysis support system MEQNET iDia.*5 By adding highly demanded pathogen and genetic testing products to its product portfolio, ARKRAY shall respond to the diverse needs of genetic testing in test laboratories.
Main Features
• Rapid and fully automated
After approximately 3 minutes of sterilization processing with the pre-treatment tube, the system conducts fully automated nucleic acid extraction, purification, PCR amplification, separation and detection. Measurement is completed approximately 45 minutes after starting (for μTAS Wako MTB and μTAS Wako MAC).
• micro Total Analysis System
The target constituent is detected by separating and analyzing the PCR amplified product with electrophoresis in a microchip.
• Easy operation
By simply setting the necessary products such as reagent, chip and consumables etc., measurement can commence.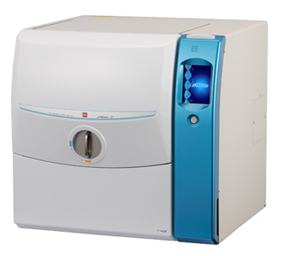 Terminology
*1 micro Total Analysis System
A system featuring finely defined flow lines of around 100μm incorporated into a glass PCB using semiconductor manufacturing technology. All processes including mixture, reaction, separation and detection are conducted on the PCB with the use of pressure and electricity to move the reagent and sample in the flow lines. Since the reaction area is small this method of analysis presents various benefits such as enabling compact instrument design, temperature control and faster reactions.
*2 Current status of tuberculosis
According to the Ministry of Health, Labour and Welfare, the number of newly registered TB patients in Japan during 2016 stood at 17,625 persons, reflecting an annual decrease. In contrast, the number of newly registered patients with latent tuberculosis infection (LTBI) was reported as 7,477 persons, resulting in an increase of 802 persons over the previous year. Additionally, the overall proportion of patients for whom consultation is delayed (defined as a period of 2 or more months from the development of symptoms before consultation) stands at 19.7%. Among patients aged between 30 to 59 years with infectious TB, the delay for consultation amounted to 33.3% in 2016. Meanwhile, no decrease has been observed for the proportion of patients for whom it takes 1 month or more to get a diagnosis (become registered) from the initial consultation, which has fluctuated around 20% for the past few years.
(Ref: 2016 Annual Report of Collated Survey Results for Registered TB Patients)
*3 Medium TB burden country
The World Health Organization (WHO) defines countries with a TB incidence rate of 10 or less (per population of 100,000) as low TB burden countries. The TB incidence rate in Japan for 2016 was 13.9 per population of 100,000 and the country is aiming to achieve 10 or less by the year 2020.
*4 Gene Analyzer i-densy IS-5320
An instrument for the fully-automatic analysis of base pair sequences associated with drug metabolism and cancer related genetic mutations. It does not require a high degree of technical skill to operate and all steps from sample pre-treatment to gene amplification and genotyping are simple. Where previously it took many days from sample collection to output of results, genotyping now takes 80 minutes.
*5 Gene analysis support system MEQNET iDia
A system that supports the intricate work involved in gene-related testing, including uniform management of test data, support for analysis result determination, and automatic creation of examination reports.
Overview of Fully Automated Genetic Analyzer μTAS Wako g1
Brand name
Fully Automated Genetic Analyzer μTAS Wako g1
Release date
31 January, 2018 (Wednesday)
Specifications
Analysis method
PCR-CE method
Detection method
Laser induced fluorescence detection method
Meas. method
4 sample simultaneous measurement
Test time
Approximately 45 minutes (for MTB/MAC)
External output
RS232C LAN(Ethernet) USB 2.0
Dimensions
683(W) × 647(D) × 670(H) mm
Weight
Approximately 130 kg
Operating environment
Temperature: 15 - 30°C (temp. change within 2°C during measurement)
Humidity: 30 - 80% RH (no condensation)
Frequency
50/60Hz
Consumed current
7A
This product will be jointly sold by Wako Pure Chemical Industries, Ltd. and ARKRAY Marketing, Inc.
ARKRAY Marketing, Inc. is ARKRAY's distributor for Japan. Overseas sales are TBD.
This product will only be sold in Japan.