A New ARKRAY Anti-Glycation Ingredient Lineup
A Functional Food Ingredient Containing Three Types of Herbs
On October 1, 2018 ARKRAY, Inc. will release Satonaceil, a functional food ingredient containing three types of herbs (fenugreek, fenugreek, fennel and hibiscus). In the future, ARKRAY is planning to propose the adoption of this new anti-glycation ingredient lineup in a wide range of health foods and supplements.
ARKRAY, Inc. (hereunder, ARKRAY) will soon release "Satonaceil", a powdered ingredient made from a hot water-extracted mixture of fenugreek, fennel and hibiscus.
From knowledge gained through many years of diabetes research, ARKRAY has come to understand that glycation (the Maillard reaction) *1 is one of the factors for diabetic complications as well as aging. Thus, ARKRAY has been planning and developing anti-glycation ingredients as well as screening for natural products with anti-glycation effects. It is known that diseases associated with aging progress when advanced glycation end-products (AGEs) *2 increase due to glycation stress*3. As a result of prior research, it has been confirmed*4 that "Satonaceil" has the possibility to decrease the amount of AGEs which build up in the body.
In recent years, with the increase in health and beauty consciousness among consumers, the importance of anti-glycation has come to be recognized. The use of anti-glycation ingredients is progressing in a wide range of products, from health food products to supplements and health drinks. Possible anti-glycation applications for "Satonaceil" will include use as an ingredient in drinks, supplements and more. Along with the "AG Herb MIX", anti-glycation ingredient (an herbal extract composed of a mixture of Roman chamomile, dokudami, hawthorn berry and grape leaf) which was released in 2006, ARKRAY is planning to propose final products that will take advantage of the features of both products to meet customers' needs.
ARKRAY will continue to gather new evidence on the subject of anti-glycation for its ongoing research and development of functional food product ingredients.
Product Appearance.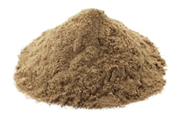 "Satonaceil" will be exhibited at the 2018 Hi/FiT/S-tec Japan Exhibition.
Date: October 3, 2018 (Wed.) - October 5 (Fri.)
Place: Tokyo Big Sight, West Hall 1, Atrium, A-011
    ARKRAY Group Karada Lab, Inc. *5 Booth

The three types of herbs

About ARKRAY's functional food ingredients
Since 2006, ARKRAY has utilized the technology and knowhow it has cultivated in the research and development of its core business products of diabetes testing instruments and reagents to enter the functional food item ingredient business. ARKRAY has mainly conducted research on functional food ingredients contained primarily in herbs and citrus fruits. "AG Herb MIX", which was released in 2006, has an anti-glycation effect, and is used as a component in many products including beauty supplements and others. Additionally, ARKRAY has three other functional ingredient products including "Biletin" shiikuwasha extract, "Rapten" citrus hassaku oil extract powder, and "Cryptobeta" Satsuma mikan pulp for a total of four products.
Terminology
1) A type of chemical reaction between sugar and protein that occurs as aging or diabetes advances. In recent years it has also come to be considered one of the risk factors for aging.

2) A collective name for substances that are ultimately produced by glycation. Many compounds consist of these, including pentosidine and carboxymethyl lysine (CML).

3) A concept which collectively captures the stress which is put on the living body due to reducing sugar and aldehyde load, and the subsequent reaction thereto. It mainly refers to the adverse effects of glycation.

4) The Suppressive Action of Glycation Stress by Herbal Extract-Containing Foods / 18th Scientific Meeting of the Japanese Society of Anti-Aging Medicine (May 25 - 27, 2018, Osaka)

5) Karada Lab, Inc. is a company in the ARKRAY Group that undertakes research, development and sales of functional food ingredients.
"Satonaceil" functional food product ingredient product specifications
Name
"Satonaceil"
Release Date
October 1, 2018 (Mon.)
Product Standards
&nbspProperties
A gray-brown powder with a distinct scent
Loss on drying
8% or less
Arsenic
2ppm or les
Heavy metals
20ppm or less
Number of viable bacteria
3,000/g or less
Number of fungi
300/g or less
E.Coli Group
Negative
Storage Method
Sealed, stored at room temperature
Packaging
1kg aluminum pouch
Composition
Hot water extracted powder from 3 herbs (product contains dextrin)
-Fenugreek (Trigonella foenum-graecum) seeds
-Fennel (Foeniculum vulgare) seeds
-Hibiscus (Hibiscus sabdariffa) calyxes and bracts

Usage
Aging care, anti-glycation
Examples of usage
Mixed herbal extract
(Maltodextrin, Fenugreek, Fennel, Hibiscus)
Recommended daily intake
100~300mg/day
This product will be sold by "Karada Lab, Inc."
Karada Lab, Inc. is a company in the ARKRAY Group that undertakes research, development and sales of functional food ingredients.