ARKRAY begins sale of A&T Corporation's Glucose Analyzer
Contributing to Diverse Diabetes Testing Needs by Linking Our Instrument with A&T's
ARKRAY, Inc. (Headquarters: Kamigyo-ku, Kyoto, President & CEO: Takeshi Matsuda, hereinafter ARKRAY) will begin the sale of the "GA09II" glucose analyzer by A&T Corporation (Headquarters: Yokohama, Kanagawa Prefecture, Chief Executive Officer: Shigetaka Misaka, hereafter A&T) on February 21, 2019 . The development of a sample transportation system which will link the GA09 II and ARKRAY'S glycohemoglobin analyzer "ADAMS A1c HA-8190V" has been completed, and both company's products will be placed on offer to medical institutions, thereby contributing to diverse diabetes testing needs.
A&T's "GA09 II", which ARKRAY will now begin to sell, was launched in 2017, and has become widely adopted in both domestic and overseas medical institutions. ARKRAY's "HA-8190V" was also launched in 2017. With high precision, fast measurement times (24 seconds per sample) and standard variant hemoglobin separation (detection), the "HA-8190V" has, along with the ADAMS Glucose GA-1172, come to be used by many medical institutions.
By utilizing this newly-launched sample transportation system, it will be possible to connect both company's instruments and perform continuous glucose and HbA1c* measurement. By proposing this linked operation with the "GA09II", ARKRAY will be able to further match institutions' needs and achieve even greater client satisfaction.
Aiming for expansion of its clinical testing business, ARKRAY entered a business alliance agreement with A&T in September of last year. Since then, both companies have conducted a series of concrete discussions on cooperation in research & development and sales business. The sale of the "GA09II", along with the development and launch of the system to link the "GA09 II" with the "HA-8190V", consists of the first stage of this partnership, which we will continue to grow strong to provide products and services of high added value to medical facilities.
ARKRAY will continue to contribute to the front lines of diabetes diagnosis and treatment by providing products and operations which answer the needs of medical institutions.
* A marker which reflects the patient's average blood glucose concentration over the last one to two months. This, along with glucose, are used as criteria for the diagnosis of diabetes.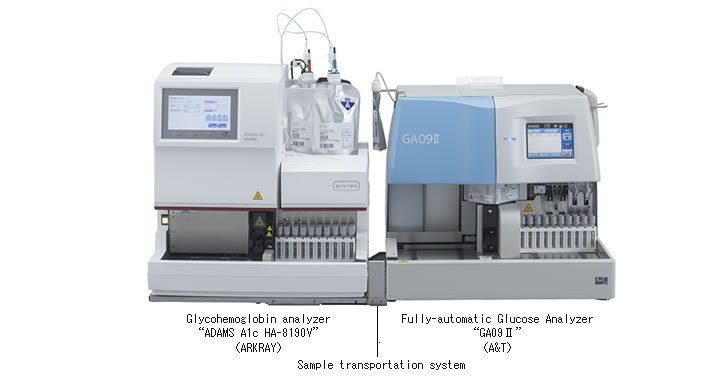 Product Overview
Name
Fully-automatic Glucose Analyzer GA09II
Release Date
February 20, 2019
Specification
Measurement samples
Serum, plasma, urine, whole blood (venous blood)
Measurement principle
GOD Immobilized enzyme oxygen electrode
Processing capacity
Maximum of 160 samples per hour
Meas. range
6 ~ 900 mg/dL Normal range
30 ~ 5,000mg/dL High range
6 ~ 500 mg/dL Whole blood measurement
Req. sample volume
Sample cup: 70 μL or greater
Sample tubes: 1mL or greater
No. of loadable samples
Maximum 200 samples
Dimensions
550(W) × 601(D) × 483(H) mm

Weight
Approximately 55 kg
Other
Comes equipped with internal barcode reader and handheld barcode reader
The information presented in this release is limited to Japan as of the time of its announcement.