Rapid Detection of Viruses That Cause Acute Infections in Infants
A New Test Item for Infectious Disease Measurement Devices:"RSV"
The "SPOTCHEM FLORA RSV", a new detection kit for ARKRAY Inc.'s "SPOTCHEM FLORA SF-5510/5520" mobile immunofluorometric analyzer, has begun sale to medical facilities across Japan from June 21, 2019. This detection kit will allow for fast, simple and highly sensitive measurement of the respiratory syncytial virus (RSV), which can cause serious respiratory infections, especially in infants. This will allow us to contribute to rapid patient diagnosis and treatment in the field.
RSV is a common cause for respiratory infections during infancy. Typically, its symptoms are characterized by runny nose, fever, and cough, but respiratory distress is also observed in serious cases. Thus, there is a demand for fast diagnosis so that appropriate treatment may begin. Historically, RSV was prevalent in Japan during the winter season along with influenza, which causes similar respiratory infections. However, in more recent years RSV has begun to spread during summer.
The "SPOTCHEM FLORA RSV", now sold by ARKRAY, Inc. (hereinunder, ARKRAY), is a kit for detecting RSV from fluid nasal swab samples. Early determination (fastest result: 1.5 minutes) is now possible due to high sensitivity measurement employing the TRF method* with the dedicated measurement instrument SPOTCHEM FLORA SF-5510/5520. By allowing for the rapid, high performance detection of viral infections, for which determination used to be difficult in the early stage, this kit will be beneficial to improving diagnosis efficiency, alleviating the burden on the patient and reducing opportunities for the spread of secondary infections.
By expanding test items, which already include the influenza virus and group A streptococcus antigen, ARKRAY will provide an even more versatile system to support the test-work of pediatricians and other medical facilities.
ARKRAY will continue to contribute to rapid diagnosis and appropriate treatment on the front line of the medical field through the development of new diagnosis systems.
*TRF method: Time-Resolved Fluorescence Method
Product Features
○Simple, highly sensitive, automated measurement
By simply setting a cartridge containing sample into the instrument, the result is automatically determined with high sensitivity.
○Prevention against sample mix-ups
Names and ID numbers, etc., can be entered on the cartridges. Since this information is read in the instrument together with the inspection result, the cartridge is useful in preventing the mix-up of samples.
○Alleviating the burden of patients
In order to alleviate pain at the time of sample collection, soft-tipped flocked swabs are included.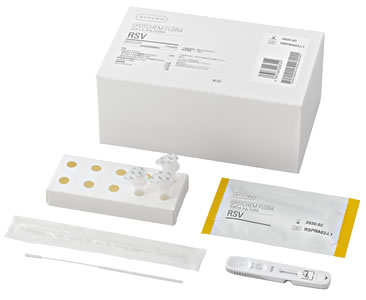 Related products
Portable Immunofluorometric Analyzer "SPOTCHEM FLORA SF-5510/SF-5520"
High detection performance is realized through the TRF method employing europium (Eu) as a labeling substance, which has a long fluorescence life and fluorescence wavelength that allows for easy detection of the virus. In the past, determining infection using conventional methods was difficult unless testing took place after the viral load increased in the body. However, it is now possible to determine infection even with a low viral load during the early stages of infection. Early determination can now be provided in as little as 1.5 minutes, and final determination in 10 minutes (influenza virus, RSV only). Depending on the model of instrument, 1 sample (SF-5510) to a maximum of 3 samples (SF-5520) can be measured.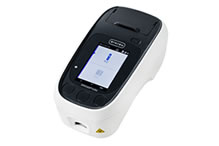 SF-5510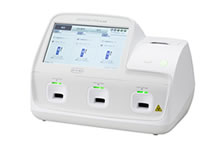 SF-5520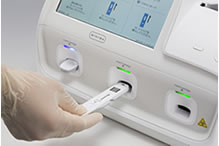 [Test procedure example]
(Test cartridge insertion)
Product Overview
Name
RSV Kit "SPOTCHEM FLORA RSV"
Release date
June 21, 2019
Specifications
  Measurement subject
Nasal swab fluid
  Measurement item
RSV antigen
  Measurement device
Portable Immunofluorometric Analyzer SPOTCHEM FLORA SF-5510/SF-5520
  Measurement principle
Fluorescence immunochromatographic method + TRF method (Time-Resolved Fluorescence method)
  Measurement time
10 minutes per sample (early determination at 1.5 min, 2.5 min, 4 min and 6 min)
  Storage Method
1 - 30°C, 12 months
Packaging unit
10 units (for 10 tests) (Test cartridges, sample extraction fluid, filter nozzles, tube stands, sterile swabs)
Approval No
23000EZX00060000
Product category
In-vitro Diagnostic Product
Classification
Class III
The information presented in this release is limited to Japan as of the time of its announcement.